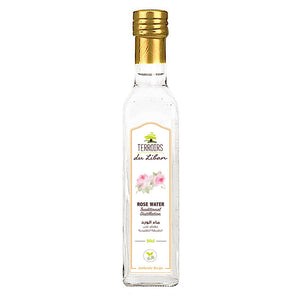 Product description
Ingredients
How to use
Related recipes
Rose water is produced through the slow distillation of water mixed with rose petals. This process dates back to ancient times in Greece and Persia.
A dash of rose water gives savory and sweet bakes a delicate fragrant note. It can substitute vanilla essence, to give a floral aroma to cakes, muffins and tarts. A splash of rose water can transform an ordinary fruit salad to an extraordinary delight.
Rose water has excellent skin hydrating properties and when mixed with natural oils it becomes a nourishing skin moisturizer.
Our rose water is made from Damask rose petals which give a luscious floral scent. They are handpicked at dawn, by a small women's cooperative in Bekaa, to ensure the rose petals retain all the moisture from the morning dew.
Distilled damask rose petals.
Flavors subtly pastries, syrups, fruit salads and dairy desserts.