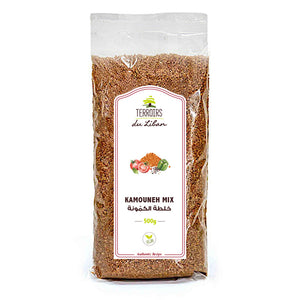 Product description
Ingredients
How to use
Related recipes
Kamouneh is a mix of fine bulgur, spices, tomato and dried mint and it's a traditional recipe from South Lebanon. Mixed with onions, fresh tomatoes and olive oil, kamouneh becomes an imaginative starter with exquisite aromas.
The research & development department of Fair Trade Lebanon has contributed to the creation of this stunning recipe in collaboration with a women's community in the South of Lebanon. Our product is a combination of century-old know-how combined with a modern approach to Lebanese cuisine. The production of our kamouneh supports women and their communities by providing a sustainable trade line with Fair Trade Lebanon.
Bulgur fine, tomato, sweet pepper, kamouneh spices (cumin grains, marjoram, paprika powder,black pepper, sweet spices, cloves, cinnamon, dried mint and dried roses) and salt.
*May contain traces of nuts, gluten and milk.
Mix with olive oil, tomatoes and onions for a kamouneh salad.
Flavors your meat or vegetarian kebbé.