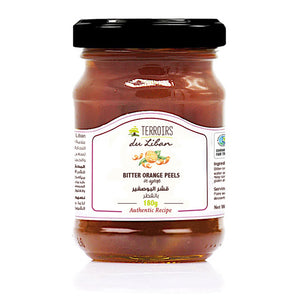 Product description
Ingredients
How to use
Related recipes
Winter is associated with the richness of diverse citrus crops. It is the perfect time for the harvest and preparation of this sweet orange delicacy.
Strips of Seville orange peel are simmered in a golden syrup till they are soft but firm. In Lebanon, these sweet orange curls are a classic preserve in every pantry and have a special place in the heart of Lebanese gastronomy.
The bitter orange tree is an ornamental fragrant tree that grows in many regions in Lebanon. But, in Magdouche, a village in south Lebanon, you find the greatest concentration of bitter orange trees which fill the air with a magnificent scent at the beginning of spring.
Our bitter orange peel is devotedly prepared by a rural cooperative in the West Bekaa.
Bitter orange peel, sugar, water and citric acid.
*May contain traces of sesame, nuts, gluten and milk.
Pairs well with cakes, dairy desserts and white meats.