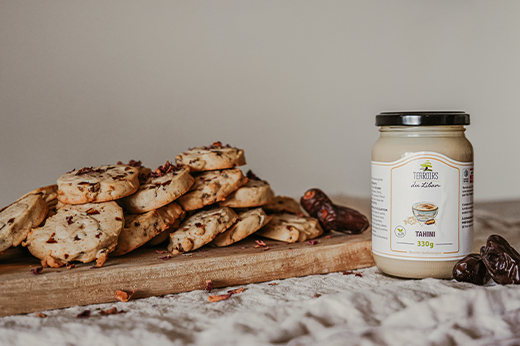 Tahini & Date Shortbread
Difficulty: Medium
Preparation time: 60 mins
Makes 24 shortbread
Ingredients:
250 g flour
100 g powdered sugar
150 g butter (room temperature)
1 egg
30 g almond powder
1 pinch salt
140 g dates
40 g

tahini
Preparation:
Put the softened butter and powdered sugar in the bowl of a mixer fitted with the leaf (attachment of the processor). Mix at medium speed. Add the almond powder and mix to blend well. Stop the processor and add the egg, salt and flour. Turn the food processor back on to low speed and mix just until well blended (be careful not to over mix so as not to activate the gluten and get harder shortbread).
Add the chopped dates and mix with a spatula.
Roll the dough into a cylinder or flat in plastic wrap. Let it rest in the fridge for at least 1 hour.
Preheat oven to 160°C. If the dough is in a cylinder, cut into circles; if flat, roll out the dough and cut out circles. Repeat with the rest of the dough. Place on a baking sheet lined with parchment paper. Using a spoon, drizzle a little tahini on each shortbread. Bake for about 30 minutes. The edges should be slightly golden, the center a little soft, and they will harden as they cool.
It's ready!
Chef's tip: for a more delicious treat, replace the dates with our dates with almonds in syrup and cut into a fine brunoise.