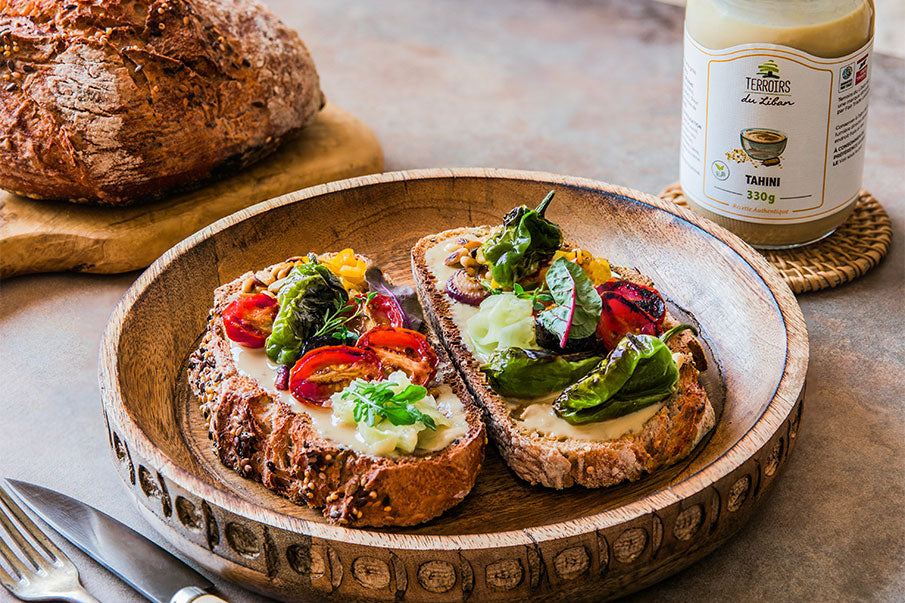 Summer Sandwich with Tahini Sauce
Difficulty: Easy
Preparation time: 15 mins
For 2 people
Ingredients:
6 tbsp

tahini

4 small green peppers
1 small yellow pepper
5 cherry tomatoes
¼ cucumber
1 handful lettuce leaves
1 sprig fresh thyme
2 tbsp pine nuts
1 small spring onion
2 slices cereal bread
1 tbsp

olive oil

1 pinch

salt

and pepper
Preparation:
Toast the bread slices in a toaster.
Slice the spring onion, cut the yellow pepper into small pieces and the cherry tomatoes in half.
Cut the cucumber into thin slices.
In a hot skillet, toast the pine nuts and set aside.
In a frying pan, place the olive oil, the spring onion, the pieces of yellow pepper and the small whole green peppers and grill for 5 minutes. Season with the salt and pepper.
On the slices of bread, spread the tahini and place the grilled vegetables, cucumber, cherry tomatoes, pine nuts, a few lettuce leaves and fresh thyme. 
Enjoy !