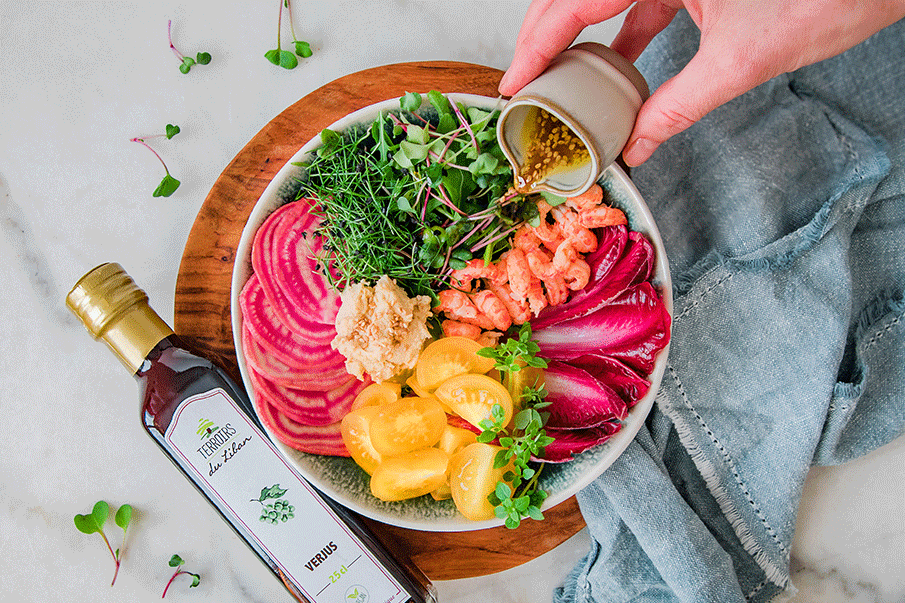 Shrimp Salad Bowl with Verjuice Vinaigrette
Difficulty: Easy
Preparation time: 15 mins
For 1 person
Ingredients:
1 endive
150 g shrimp
1 beetroot
1 handful cherry tomatoes
1 handful arugula
1 handful sprouted seeds
A few leaves fresh basil
For the Vinaigrette:
Preparation:
In a bowl, place the verjuice, sesame seeds, and pepper, then drizzle the olive oil slowly while vigorously whisking the mixture. Set aside.
Quarter the cherry tomatoes.
Using a mandolin, thinly slice the beetroot.
In a salad bowl, place the arugula, sprouted seeds, endive leaves, tomatoes, beetroot, hummus, and shrimp.
Sprinkle with a few basil leaves.
Pour the vinaigrette over the ingredients.
It's ready!