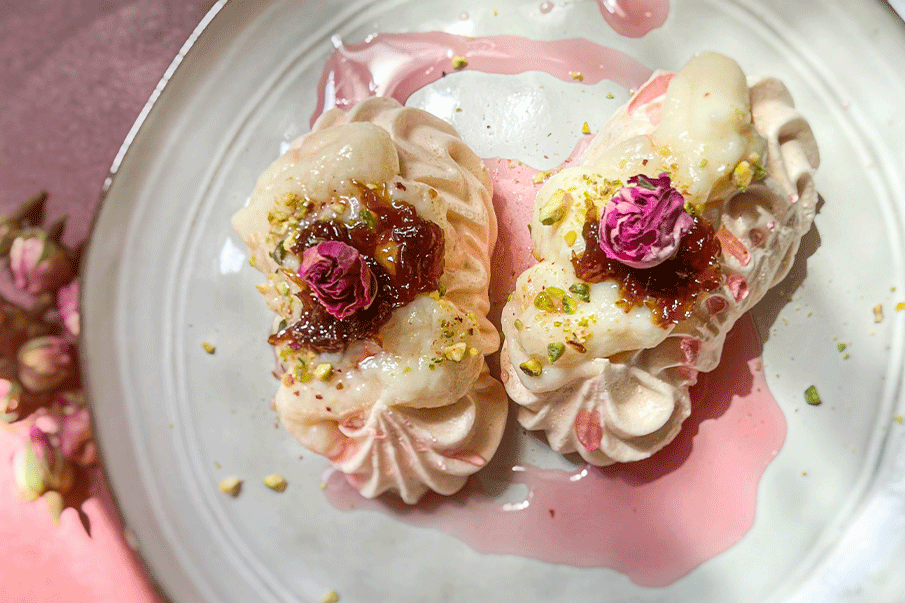 Rose Meringue with Rose Pastry Cream & Rose Petals Jam
Difficulty: Easy 
Preparation: 2 hours
For 4 people
Ingredients:
For the meringue: 
125g of sugar
2 egg whites
1 pinch of salt
For the rose pastry cream:
1L of milk
100g of flour
200g of sugar
4 egg yolks
2 tbsp of

rose syrup
Preparation:
For the meringue: 
Preheat the oven to 100°C / Thermostat 3.
Beat the egg whites with the pinch of salt until stiff.
Then add the sugar in small amounts, and continue to beat, until the egg whites become glossy and form stiff peaks.
Transfer the meringue to a piping bag.
Pipe the meringues using the pastry bag on greased parchment paper and bake for 1h to 1h30 (depending on your oven).
For the rose pastry cream:
Mix the yolks with the sugar and beat until they turn whiter in color.
Add the flour and mix well, then add 1/2 glass of milk to form a thinner mixture.
Heat the rest of the milk for about 3 minutes, and when it's lukewarm, add the previous egg mixture along with the rose syrup and whisk until they thicken and start bubbling.
Stop cooking then cover with plastic wrap and let cool.
To decorate, add the rose petals jam, rose buds, 1 tsp of rose syrup, and chopped pistachios.
To assemble:
On the meringues, place a little pastry cream and the rose petals jam. Decorate with chopped pistachios, rose buds, and rose syrup.
Recipe by : Basma (@basmawlawi)