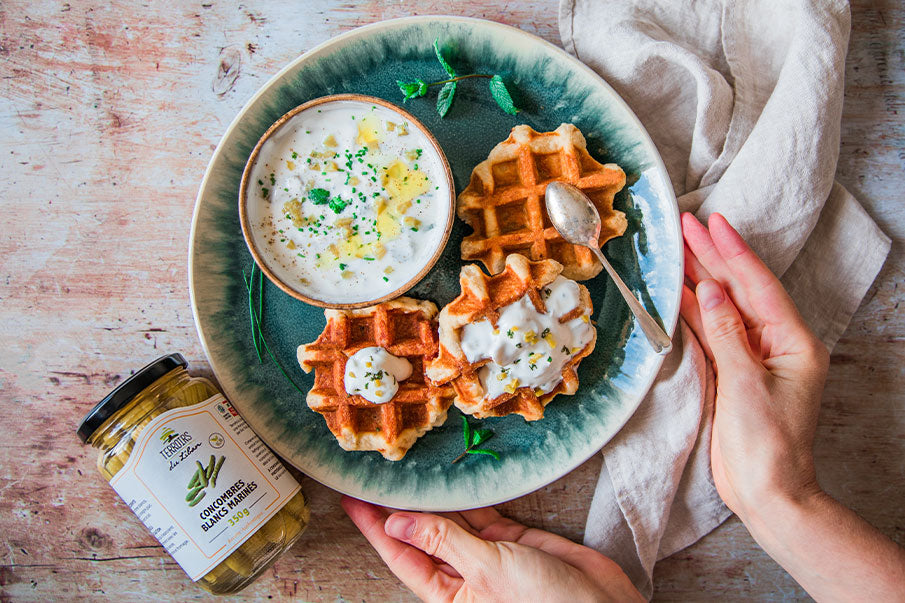 Potato Waffles with Wild Cucumber Pickles Creamy Sauce
Difficulty: Easy 
Preparation time: 45 mins
Chilling time: 1 hr
For 4 people
Ingredients:
For the potato waffles: 
250 g potato
50 g flour
50 g Gruyere cheese
10 cl cream
1 egg
½ sachet baking powder
1 pinch

salt
For the sauce:
Utensils:
Preparation:
For the waffle:
Grate raw potatoes and set aside.
In a bowl, combine the Gruyère cheese, cream and salt.
Add the egg and mix.
Add the grated potatoes and mix.
Add the flour and mix again.
Heat the waffle iron and add a generous layer of waffle batter. Let cook 
For the sauce:
Cut the pickles into thin slices.
Chop the mint and parsley.
In a bowl, place the pickles slices, Greek yogurt, mint and parsley, and mix well.
Refrigerate for at least one hour.
Just before serving, add a pinch of espelette pepper, salt and pepper.
Snip the chives on top of the sauce and add the olive oil.
Enjoy !