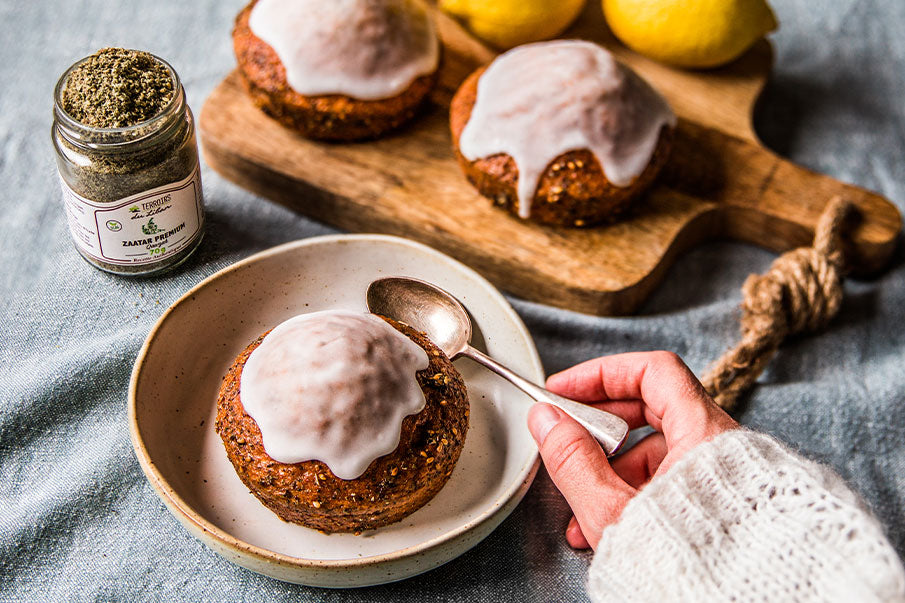 Mini Zaatar, Honey & Lemon Cakes
Difficulty: Easy 
Preparation and cooking time: 40 mins
For 4 people
Ingredients:
For the cakes: 
2 lemons
100 g of butter
2 eggs
150 g of sugar
100 g of honey
2 tbsp of zaatar premium qawzah
125 g of crème fraîche
225 g of flour
½ sachet of baking powder
For the icing:
100 g of of icing sugar
1 tsp of hot water
Juice of ½ lemon
Preparation:
Preheat the oven to 180°C.
Grate the zest of the lemons and reserve.
Cut the butter into pieces and melt it in a saucepan over low heat.
In a bowl, pour the eggs then add the sugar, salt and cream. Whisk the mixture.
Add the flour, baking powder, lemon zest and melted butter. Mix until you obtain a smooth paste.
Butter the cake molds, then place the mixture.
Cook for 30 minutes.
For the icing, in a bowl, mix the icing sugar, hot water and lemon then spread over the unmolded cakes.
Leave to rest for 1 hour.
Enjoy !