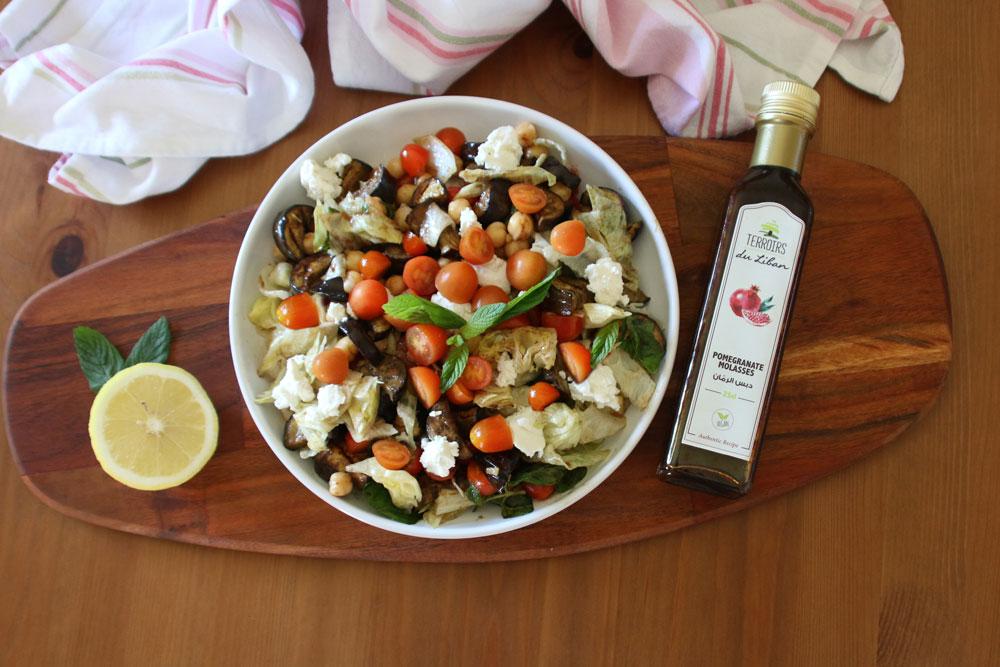 Grilled Eggplants Salad with Pomegranate Molasses
For 2 people
Preparation time: 20 minutes
   
Ingredients:

For salad:
Green salad (iceberg, romaine lettuce…)
½ cup of cut mint leaves
3 eggplants of small size
2 tbsps of

olive oil

for grilling
½ cup of cooked

chickpeas

1 cup of cherry tomatoes cut in half
Feta cheese (optional)
For dressing:
Preparation:
Start by cutting the eggplants lengthwise, then cut each half in half and finally, cut each into slices of about 1 cm thickness.
Add olive oil to a non-stick grill-type pan and heat it on medium to high temperature. Add eggplants over the pan and grill them on each side for 2 minutes, then lower heat and grill for 15 to 20 minutes until cooked, while shaking occasionally. Set aside and let cool a little.
In the meantime, place all salad ingredients in a large bowl (except the feta).
Prepare salad dressing in a bowl by mixing together olive oil, pomegranate molasses, lemon juice, salt and garlic. Add over salad and mix well.
Crumble feta gently and sprinkle over salad.

Enjoy and bon appétit!