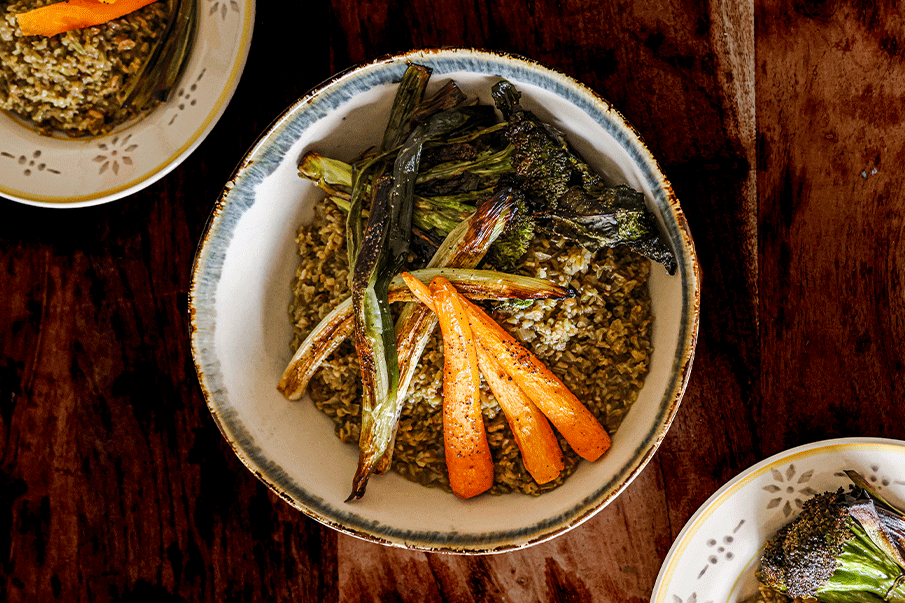 Freekeh with Roasted Vegetables
Difficulty: Easy 
Preparation time: 40 mins
For 4 to 6 people
Ingredients:
300 g of

freekeh

4 medium-sized chopped onions
60 g of olive oil
1 L of vegetable or chicken stock
1 medium broccoli cut into small pieces
4 medium carrots cut in half lengthwise
4 green onions cleaned (remove roots and yellow leaves)
50 g of butter

Salt

and pepper to taste
Preparation:
In a medium saucepan, heat 40g of olive oil and the 50 g butter.
Once the butter is melted, add the chopped onions and sauté until golden.
Add the rinsed, drained freekeh, and stir. Cook for 1 to 2 mins to roast the freekeh.
Add the broth. Once it begins to boil, lower the heat and cook gently for 25 minutes or until the liquid evaporates (leave a little liquid and do not dry out completely).
Once fully cooked, stir and let rest for a few minutes.
Preheat the oven to 200°C. Place the vegetables on a baking sheet covered with parchment paper, add 20g of olive oil, salt and pepper and mix well.
Place in the oven for 15 mins or until the vegetables are soft but slightly crunchy.
Serve the freekeh in a bowl, topped with the roasted vegetables.
Enjoy!