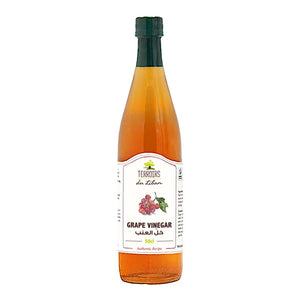 Product description
Ingredients
How to use
Related recipes
Lebanon's primary advantage is its exceptional terroir, characterized by high temperatures and close to 300 days of sun a year. This type of climate gives the perfect conditions for grapes to mature and the flavors to concentrate. Grapes are the star fruit of Lebanon and they are plentiful! At the end of the season, when leftover grapes are abundant, villagers make grape vinegar from the juice of fresh pressed grapes.
It is an ingredient used in salad dressings, meat and poultry marinades and in liquid reductions. Our product comes from small-scale producers in the Bekaa valley who gather sweet grapes at the end of the season to prepare this stunning grape vinegar.
Fermented grape juice.
*May contain traces of sesame and milk.
Its soured taste seasons your salads and helps deglaze your sauces.