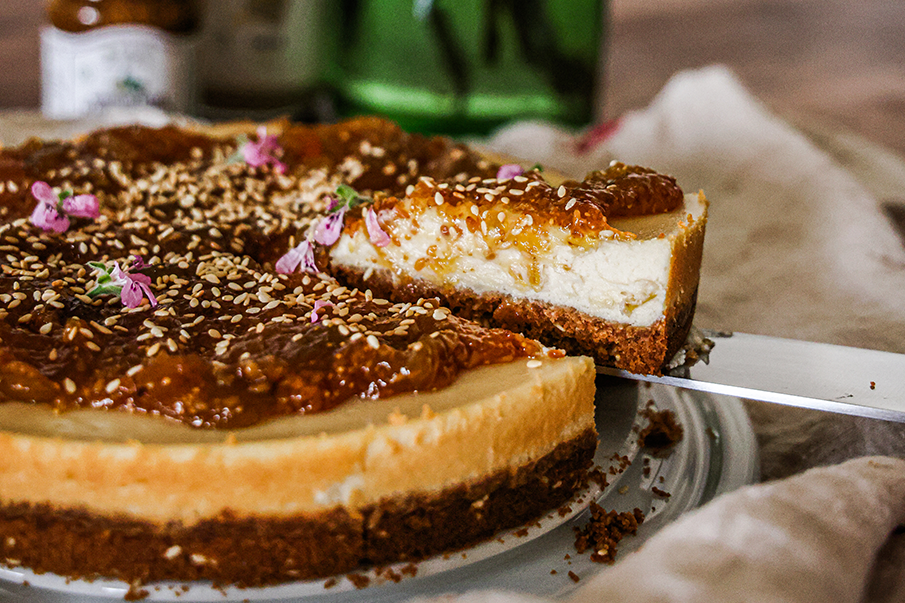 Tahini & Fig Jam with Sesame Cheesecake
Difficulty: Medium
Preparation time: 60 mins
For 6 to 8 people
Ingredients:
For the biscuit base:
250 g tea biscuit (LU, Mcvities or other)
25 g melted butter
50 g

tahini

20 g sesame seeds
For the cheesecake:

150 g white cheese (cream cheese e.g., Philadelphia, Président, Elle & Vire)
300 g Labne (or Greek yogurt drained in a cool place with paper for at least 4 hours)
90 g sugar
5 g vanilla extract
1 g salt
95 g egg
1 egg yolk
15 g flour
180 g

fig jam with sesame
Preparation:
Preheat oven to 180°C.
Blend the biscuits in a food processor and transfer them to a bowl.
Add the melted butter, tahini and sesame seeds and mix well.
Crush the hazelnuts and chop the parsley.
Pour the mixture into a cheesecake pan and press well to make the base compact. Use the bottom of a glass to press down. Bake for 15-20 mins, until edges start to turn golden brown.
Increase oven temperature to 200°C.
Place cream cheese, labneh, sugar, vanilla and salt in the bowl of a mixer. Mix until the dough becomes homogeneous.
Add the eggs one by one. Add the sifted flour and mix until the flour is incorporated and the mixture is smooth without lumps.
Pour the mixture over the biscuit base and bake for 5 mins at 200°C, then lower the temperature to 100°C and bake for 40 mins. The edges should be lightly browned.
Turn off the oven and let the cheesecake cool inside, keeping the oven ajar for 1 hour.
Refrigerate for at least 6 hours.
Top with the extra sesame fig jam and serve.
Enjoy!