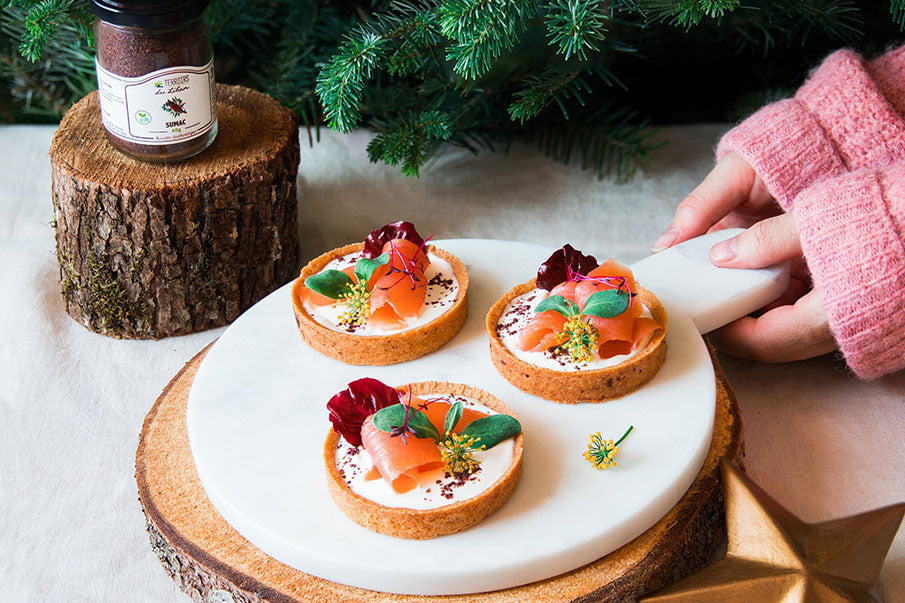 Smoked Salmon Tartlets with Sumac
Difficulty: Easy 
Preparation time: 15 mins
Cooking time: 20 mins
For 4 tartlets
Ingredients:
1 tbsp of sumac
200g of smoked salmon
200g of fresh cheese
1 small red endive
1 short crust pastry
1 handful of microgreens and edible flowers or aromatic herbs (dill and mint)
4 tartlet molds
Preparation:
Preheat your oven to 160 degrees.
Cut the short crust pastry into 4 pieces then mold them onto the 4 tartlet pans. Remove excess if needed.
Bake the tarts for 20 minutes at 160 degrees.
When ready, set aside to cool down then remove the mold.
Cut off the top of the endive to only keep the red leaves.
For each tartlet, start by putting the cream cheese, a pinch of sumac, two slices of smoked salmon, a red endive leaf, a few microgreens and edible flowers.
It's ready!