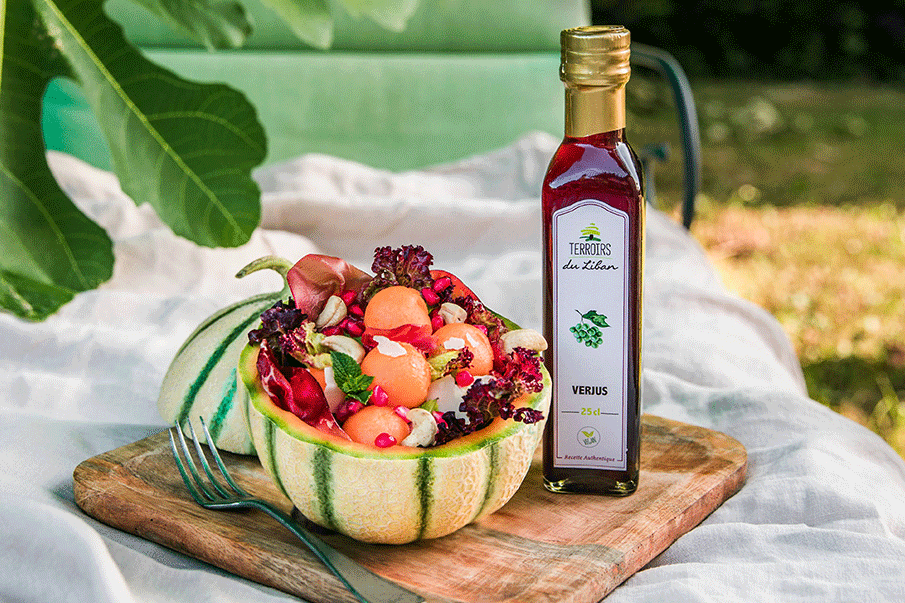 Melon Bowl
Difficulty: Easy 
Preparation: 15 minutes
For 1 melon bowl
Ingredients:
1 melon
1 tsp of

verjuice

4 slices of bresaola
1 tbsp pomegranate seeds
1 handful of microgreens
10 mint leaves
15 parmesan shavings
10 cashew nuts
1 tbsp

olive oil

1 pinch of

salt

and pepper
5 stalks of chives
Preparation:
Cut a melon in half, remove the seeds, and using a melon baller, form melon balls and set aside.
Use half of the empty melon as a bowl and arrange ingredients in the following order: melon balls, young shoots, cashews, bresaola slices, pomegranate seeds and parmesan.
Chop the chive stalks.
In a small bowl, mix 1 tbsp of olive oil, 1 tsp of verjuice, salt, pepper and chives, then pour over the melon bowl.
Sprinkle with mint leaves and it's ready.
Enjoy !