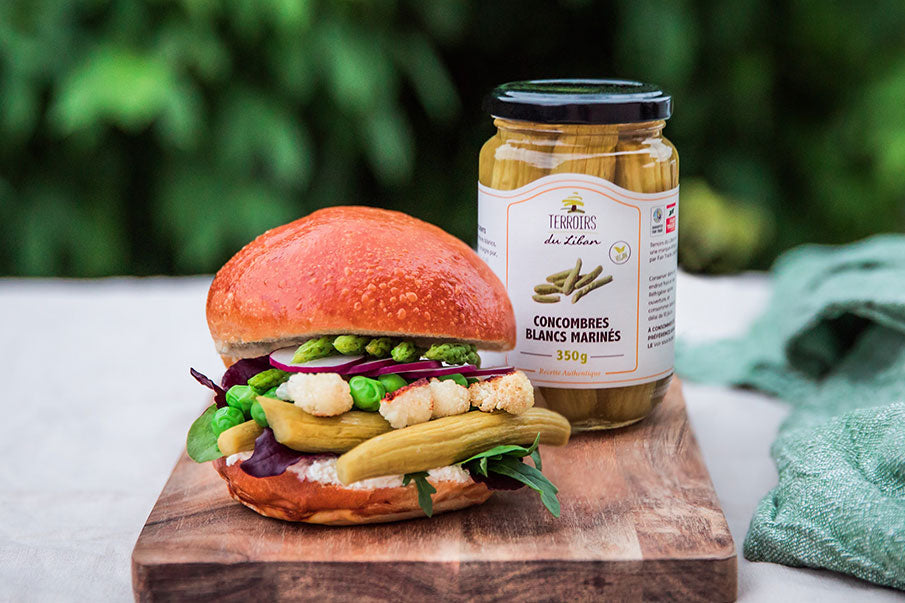 Green Burger
Difficulty: Easy 
Preparation: 20 minutes
For 1 burger
Ingredients:
1 jar of 

pickled wild cucumber

1 handful of green salad
1 handful of fresh peas
6 wild asparagus
30g of cream cheese 
1 handful of cauliflower florets
2 radishes
1 chopped garlic clove
10 fresh coriander leaves
1 pinch of

salt

and pepper
1 burger bun
1 tbsp of olive oil
Preparation: 
In a pot of boiling water, cook the asparagus and peas for 10 minutes, then drain. Place them in a plate, add salt and pepper and olive oil. Set aside.
In a frying pan, add and warm the oil, place the chopped garlic clove and brown the cauliflower florets for 5 minutes.
Cut the radishes into thin strips.
Cut the bun in half, spread with cream cheese, add the baby greens, 3 pickled wild cucumbers, cauliflower florets, peas, asparagus, radishes, cilantro and close the burger with the cap.
It's ready ! 
Chef's tip: For a 100% vegetable version, you can replace the cream cheese with our baba ghannouj !
Enjoy your meal!