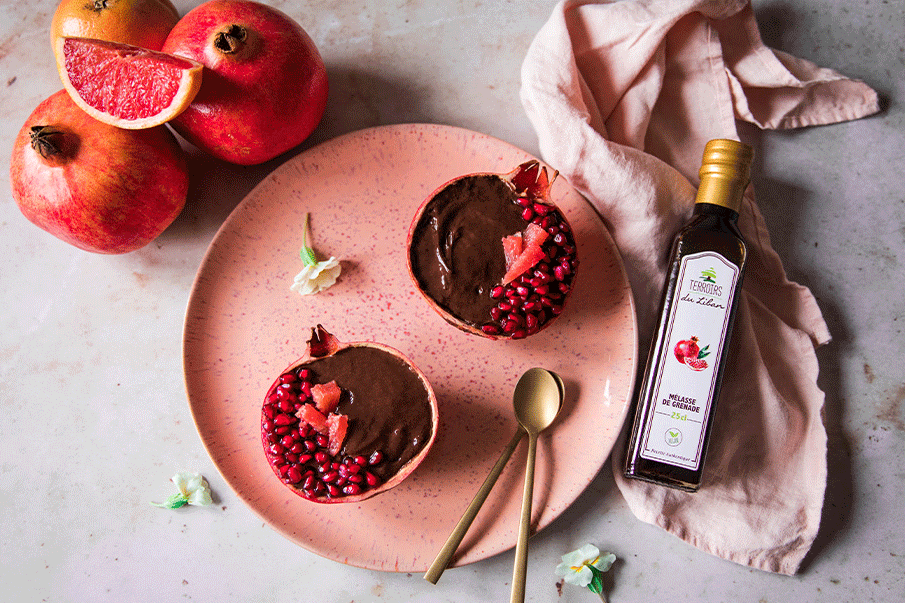 Dark Chocolate Mousse with Pomegranate Molasses & Grapefruit
Difficulty: Easy
Preparation and cooking time: 1h
Resting time: 12h
For 4 persons
Ingredients:
150 g dark chocolate
75 g cream
1 egg yolk
3 egg whites
25 g granulated sugar
1 tbsp

pomegranate molasses

2 fresh pomegranates
1 grapefruit
Preparation:
In a saucepan, bring the cream to a boil.
Pour the cream onto the pre-chopped dark chocolate.
Let it melt for 5 mins.
Cut the grapefruit into quarters.
Add the juice of one quarter grapefruit and the pomegranate molasses to the chocolate blend and then whisk.
Add the egg yolk.
Beat the egg whites with the sugar then add to the chocolate blend.
Cut the pomegranates in half and empty them using a melon baller.
Set the seeds aside, clean the empty pomegranate skins then fill with the chocolate blend.
Sprinkle with some pomegranate seeds and some small pieces of grapefruit.
Refrigerate for 12h before serving.
It's ready !