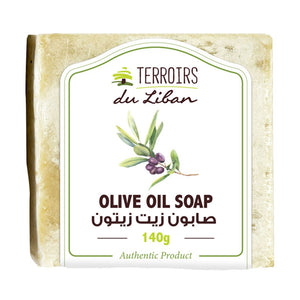 Product description
Ingredients
How to use
Olive oil soap is made with 100% olive oil with no fragrance or colors are added to it; it is all natural.
Olive oil soap cleanses without stripping away the skin's natural oils and it has many beneficial qualities. It is antioxidant and hypoallergenic which makes it suitable for sensitive skin types; it is rich in fat lipids which make it a good moisturizer and an effective anti-dandruff product for hair.
Our premium olive oil soap is produced by a small-scale family business from Jbeil.
Olive oil, water and caustic soda.
Recommended for sensitive skin.
Useful to remove greasy stains.