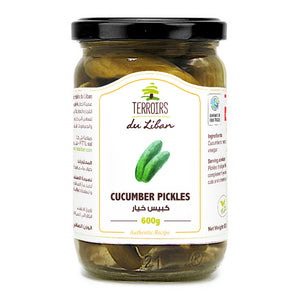 Product description
Ingredients
How to use
Cucumber pickles are grown in the sunny and fertile soil of the Bekaa valley. The cucumbers are carefully picked at the right time to ensure the perfect balance between sweetness and a firm crispy texture. Our pickled cucumbers have a distinct tangy, pungent flavor which makes them the perfect accompaniment for burgers, kebabs, minced or cold meats, falafel and salads. The women of a small cooperative in the Bekaa valley devotedly pick and prepare these pickles using water, salt and aromatics.
Cucumbers, water, salt and vinegar.
Pickles that perfectly complement your meat, cold cuts and cheese.