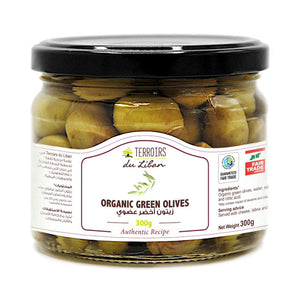 Product description
Ingredients
How to use
Our organic green olives are sourced from a single estate in the breathtaking county of Qleyaa, in the south of Lebanon. The climate and soil composition in this southern region offer the ideal conditions for growing olive trees naturally, with olive groves extending as far as the eye can see.
The organic green olives are hand-selected to ensure the finest quality. They are cured in salt and water using traditional methods to protect the fruit from bruising and damage.
Organic green olives, water, salt and citric acid.
*May contain traces of sesame and milk.
Served with cheese, labna, and salads.