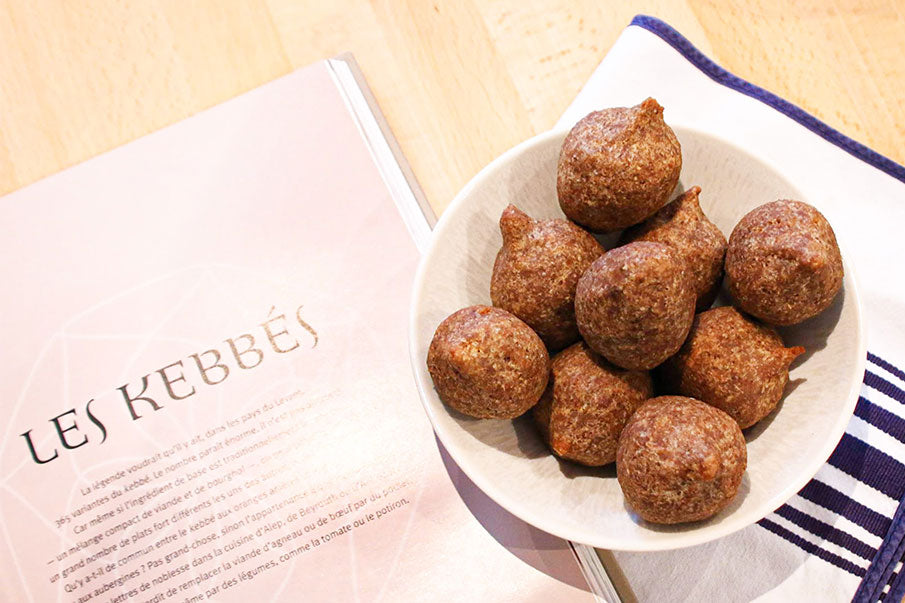 Stuffed Kebbeh
Difficulty: Medium 
Preparation: 20 minutes
Cooking time: 10 minutes
For 40 small kibbeh
Ingredients:
For the kebbeh dough: 
350g of

fine brown bulgur

350g drinking water
500g ground lamb meat (lamb saddle or defatted leg)
Salt and ground black pepper 
For the stuffing:
1 kg finely chopped onions
300g minced lamb meat
2 tbsp

vegetable oil

50g of pine nuts

Salt

and freshly ground black pepper 
Utensils:
2 salad bowls
1 saucepan
1 food processor
1 fryer and its frying oil
1 strainer
Preparation:
Soak the fine brown bulgur with 350g of drinking water for at least 20 minutes and no more than 2 hours.
To make the filling, sauté the chopped onions in olive oil until golden on medium low heat
Add the minced meet to the onions and cool out on medium high heat
Stir occasionally until it's fully cooked
Toast the pine nuts in the oven for 15 min at 160˚C
Add the pine nuts to the cooked meat and set aside   
For the kebbeh dough:
In a food processor, blend the ground meat, bulgur, salt and pepper. Add a little water if needed. (If the quantity of the dough is too large for the food processor, mix in batches. The texture of the dough must be homogeneous. It is ready when it comes off the sides of the food processor.)
Mix the dough with your fist (as if you are punching out the air bubbles in a bread dough).
Moisten your hands with water and form a ball of kebbeh dough (make a well with your finger and push it out in the palm of one hand to gradually expand the well.)
Fill the formed cavity ¾ full with stuffing. Seal the dough well and form an oval by pinching the two sides.
Gradually place the kebbeh on a plate. If your dough tears, put a piece of dough back over the hole with your wet fingers.
Heat the oil in a fryer to 180°C and fry the kebbeh balls until they turn golden (about 1 to 2 minutes).
Gently drain the kebbeh and place them on absorbent paper.
Serve with yogurt or

hummus

!
Recipe by : Chef Karim Haidar