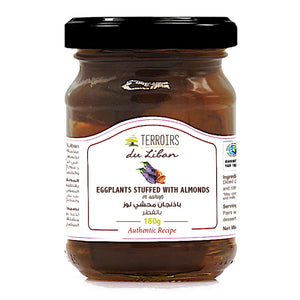 Product description
Ingredients
How to use
The eggplant preserve is made with the finest locally sourced fruit and simmered in golden syrup. This authentic product will give you a taste of Lebanese gastronomy. Serve them on their own, use them in your desserts, with yogurt, or on top of ice cream. This mouth-watering recipe will delight gourmet foodies. An original, ready-to-eat, appetizer developed by a small-scale ethically-minded producer in West Bekaa.
Whole eggplants, sugar, water, peeled dried almonds and citric acid.
*May contain traces of sesame, nuts, gluten and milk.
Pairs well with cold cuts, foie gras, white cheese, yogurt and desserts.