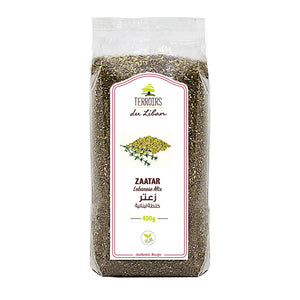 Product description
Ingredients
How to use
Related recipes
Zaatar is a blend of spices; it consists of dried oregano (Origanum syriacum), toasted sesame seeds, sumac and salt. It is, inarguably, the most prized spice in the Lebanese cuisine.
In every Levantine pantry there is always a cup of zaatar mixed with olive oil to be used as a dip or as an impromptu sauce over dishes and salads. Zaatar perfectly complements the popular Lebanese breakfast treats of manouche (flat bread) and labneh (strained yoghurt). Sprinkled on top of white cheeses, it enhances their taste wonderfully.
Zaatar captures the spirit and flavor of the Mediterranean and its sun-drenched landscapes.
It grows wild in mountainous terrain and it is harvested in early summer before its aromatic spears begin to flower.
Our zaatar is sourced from a devoted cooperative in the Qawzah village, in south Lebanon. The whole of the local agricultural community contributes to the production of this premium quality, preservative-free, zaatar.
Roasted sesame, thyme, sumac and salt.
*Contains sesame.
Serve with olive oil and bread.
Pairs well with meats, salads, cheeses and pizzas.